8. George William3 DAZEY (James H.2, James Henry Jenkins1) (#818) was born in IN 1 JAN 1869. I have seen his birth year listed as 1 JAN 1873, this would be incorrect as he appears in the 1870 census Fountain Co., IN as 1 yrs old. He was listed with his Father James E. Dazey and mother Josie. George died 1 JAN 1927 in Greenville, MI., at age 58.
He married Emily Amelia Anna BRECHT 7 DEC 1891 in Wood Co., OH. (Emily Amelia Anna BRECHT is #817.) Emily was born 30 SEP 1868 in Putnam Co., OH. date may be 30 SEP 1871 Emily was the daughter of Adam BRECHT and Emily Emma WARREN.
Emily died 19 APR 1919 in Putnam Co., OH, at age 50. Cousin to Amos Brecht He appears in the 1880 census of Champain Co., OH as bound, working on farm, as born in IN, (father OH, mother IL) in the home of David and Jennie Gentis? Then in 1930 he appears in Montcalm Co., MI as a lodger. In the 1920 Putnam Co., OH census he indicates his birth location as IL. and has two sons living with him, and listed as a widowed.
George William DAZEY and Emily Amelia Anna BRECHT had the following children:

+ 9 i. Ralph E.4 DAZEY was born 5 SEP 1893.

+ 10 ii. Josephine DAZEY was born 7 AUG 1895.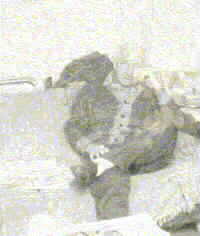 Raymond Dazey

+ 11 iii. Ray J. DAZEY was born 1 JUN 1898.

+ 12 iv. Clarence DAZEY was born 30 APR 1901.

13 v. Clyde DAZEY (#5112) was born in Putnam Co., OH 3 NOV 1903. Clyde died 21 DEC 1903 in Putnam Co., OH, at age unknown.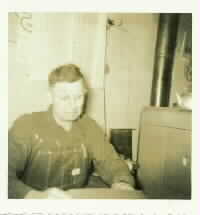 James E. Dazey

+ 14 vi. James Ervin DAZEY was born 28 OCT 1904.

15 vii. William H. DAZEY (#5113) was born in Putnam Co., OH 24 JUN 1907.

+ 16 viii. Alfred DAZEY was born 16 JAN 1910.

Return to Table of Contents or Index

Go to Next Page

Go to Previous Page