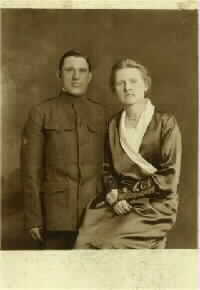 Earl Lawrence & Carrie (Rose) Cleaves
18. Earl Lawrence4 CLEAVES (Mahala Emma3 HOOVER, Hiram B.2, Henry1) (#1311) was born in Auglaize Twp., Paulding Co.,, OH 2 DEC 1893. Earl died 22 JUN 1969 in Defiance, Defiance Co., OH, at age 75.
He married Carrie Irene ROSE 15 MAR 1919 in Putnam Co., OH. (Carrie Irene ROSE is #1321.) Carrie was born 2 APR 1896 in Fostoria, OH. Carrie was the daughter of Foster ROSE and Mary YOCHUM. Carrie died 12 JAN 1978 in Lima, Allen Co., OH, at age 81.
Earl Lawrence CLEAVES and Carrie Irene ROSE had the following children:

+ 46 i. Robert Earl5 CLEAVES (still alive).

47 ii. Richard Everrett CLEAVES (#4377) (still alive).

+ 48 iii. Marjorie Jean CLEAVES (still alive).

49 iv. Raymond Herbert "Dutch" CLEAVES (#4375) was born in Continental, Putnam Co., OH 7 FEB 1932. Raymond died 9 MAR 1998 in Lima, Allen Co., OH, at age 66. He married Margaret EICKHOLT 28 AUG 1976. (Margaret EICKHOLT is #4380.) Surviving are a stepson, Jason Bear, Lima; a stepdaughter, Margo Baer, Columbus; ....and three grandchildren, preceeding him in death were his parents. Burial will be in Monroe Cemetery Continental. Dutch was a farmer north of continental near the putnam and defiance co., line on SR 634 (harris rd).

Return to Table of Contents or Index

Go to Next Page

Go to Previous Page