2. JosephA RICHARD (XavierB) (#1) was born in Fonerair, France 7 MAR 1796. Joseph died 19 JUN 1884 in Stryker, Williams Co., OH, at age 88. His body was interred JUN 1884 in Archbold, Fulton Co., OH.
He married Rosann "Rose" DUDEE circa 1821 in France. (Rosann "Rose" DUDEE is #2.) Rosann was born in France. Rosann died 1847 in Robertsville, Stark Co., OH, at age unknown. Her body was interred 1847 in Stark Co., OH. Rosann immigrated to destination unknown 1831.
He was baptized 1796 in France. Joseph immigrated to destination unknown 1831. He petitioned the court to become a citizen 4 OCT 1860 in Williams Co., OH.(2) Joseph Richard was born and reared in France, where he followed the vocation of coal mining until 1831 when he immigrated with his family consisting of a wife, 2 son's one of which died on the voyage to America and a daughter. The voyage being made on a sailing vessel and being fifty five days in duration. Joseph and his family disembarked in the french city of New Orleans, whence they went to Cincinnati, OH., later to Wellsville, Columbiana Co., and finaly to Stark Co. There the family lived for about sixteen years, bring into the world four more daughters an the father being variously employed, and then in 1848, they came to Williams Co., OH. There he secured twenty acres of wild land in section 14, Springfield Twp. Clearing this place of native timber while later he purchased a place of 160 acres, and still later the adjoining 80 acres at a total cost of $1300. most of the folling been partially reclaimed and having been improved with modest bldgs. Joseph continued to be actively engaged in farming on this place until 1853 when he traded it for a 80 acre farm on brush creek in Springfield Twp., after which he sold the 80 acres and bought a farm of 40 acres adjoing the Village of Stryker where he resided until 1857 at that time he sold the 40 acres and resided with his son-in-laws John C. Chappuis and Frank Flory for a short time each. He then spent the remainder of his years with his daughter Mrs. Jane Brown (also the widow of Bradford Barber) and died at her home in Stryker. Both he and his wife were devote members of the Catholic Church.
Joseph RICHARD and Rosann "Rose" DUDEE had the following children: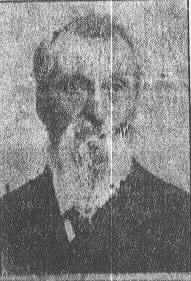 John M. Richard

+ 4 i. John Mathias1 RICHARD was born 16 AUG 1822.

5 ii. Son RICHARD (#38) was born in Alsace, France 1825. Son died 1831 in Alantic, Ocean, at age 6.

+ 6 iii. Louise Rose RICHARD was born 12 NOV 1827.

+ 7 iv. Virginia E.'Lydia' RICHARD was born 30 MAR 1834.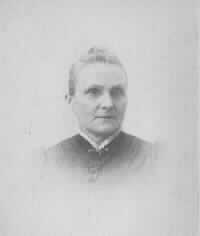 Jane E. (Richard) Barber1 Brown2

+ 8 v. Jane E. "Jennie" RICHARD was born MAY 1835.

+ 9 vi. Sophia RICHARD was born 1842.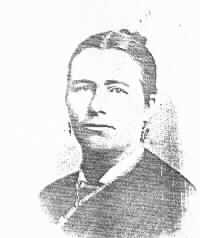 Josephine Richard

+ 10 vii. Josephine RICHARD was born 9 JUL 1845.

Return to Table of Contents or Index

Go to Next Page

Go to Previous Page