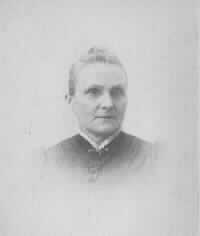 Jane E. (Richard) Barber1 Brown2
8. Jane E. "Jennie"1 RICHARD (JosephA, XavierB) (#3) was born in Robertsville, Stark Co., OH MAY 1835. Jane died 25 FEB 1917 in Stryker, Williams Co., OH, at age 81. Her body was interred 28 FEB 1917 in Archbold, Fulton Co., OH.
She married twice. She married Bradford Alfred "John" BARBER 3 OCT 1852 in Stryker, Williams Co., OH. Taken from Wms. Co., Courthouse records. The date Oct. 3, 1852 is a Sunday. (Bradford Alfred "John" BARBER is #4.)
Bradford was born 1832 in Saratoga Co., NY. Bradford's enlistment papers for the 10th OVC at Cleveland provides proof of Saratoga Co., as his birth place. Bradford was the son of Thomas BARBER and Mercy Ann KEECH.
Bradford died 9 NOV 1864 in Andersonville, GA, at age 32. His body was interred 9 NOV 1864 in Andersonville, GA. At age 30 Bradford Barber was 5'-5 1/2" tall, Dark Complexion, Grey eye's, and Dark Hair. He enlisted on Oct. 11, 1862 Camp Cleveland for 3 yr's of service in the Company D. 10th. Regiment of the Ohio Volunteer Cavalry under the command of Colonel Charles C. Smith. He was wounded at Clairburn Ga. during Gen. Kilpatrick Georgia Campain on Aug 24, 1864 with a gun shot in the left forearm. He was taken prisoner while at the Union hospital at Sandtown Ga., then transported to the Andersonvill Ga. prison hospital where he died of starvation on Nov. 9th. 1864. He was listed as company cook on payroll records in June 1863, and as teamster on Oct 1863. Absent from service at Louisville KY. April and May 1863 From the medical records report: Wounded in the left fore arm, bone fractured, gun shot wound was at the battle of Red Oak near Claiburn, GA. on August 19, 1864 and transported to hospital at Sandtown, GA., on August 24, 1864 he was taken prisoner and then transported to Andersonville GA. and died of Chronic Diarhrea and Starvation.
Bradford weighed 160 pounds; was 5-feet 6-inches tall; had Brn hair; had Brn eyes. She married David Franklin BROWN 11 APR 1867 in Williams Co., OH. (David Franklin BROWN is #56.) David was born 3 JUN 1826 in Stonington, CT.(6) David was the son of Elijah BROWN and Mary A. SANDERS. David died 2 NOV 1902 in Defiance Co., OH., at age 76. His body was interred NOV 1902 in Evansport Cem., Defiance Co., OH.(7) David was divorced from Sarah CHURCH MAR 1867 in Williams Co., OH. David was divorced from Jane E. "Jennie" RICHARD 26 NOV 1883 in Williams Co., OH. David F. Brown when, 16 years old, commenced to learn the carpenter trade in Rhode Island, severing three and half years. In 1848, he moved to Hartford Conn., and thence to Ansonia, Conn., engaging in sash and door making until 1853, then removing to Delaware City, where he built the Colburn manufacturing establishment. After this, he lived in Minnesota, Iowa Connecticut, Norwalk Ohio, and came to Stryker in 1860, having brought the first planing machine into William County. Mr. Brown was first married in 1848 to Sarah Church, of Connecticut; by this union there was one child, Frances W., now Mrs. Charles Downs. In April 1867, he married Mrs Jane Barber; to this union there was one child, Mertie E. Mr Brown us politically a Republican, and an old prominent citizen of Stryker. By William Barber: D. Frank Brown Filed for a divorce from Sarah (Church) Brown, in is statement he stated that Sarah had left him 3 years previous to his divorce request. In 1883 Jane E. (Richard) Barber, Brown filed for divorce from D. Frank Brown and in her statement she stated that he was continously drunk and would not come home until late at night. D. Frank Brown then married Nancy (Justice) Partee, Corwin. Mrs Mary A. (Barber) Lloyd ET AL filed a lawsuit in Williams Co., court house as in the suit he embezzeled money from his stepchildren pension from their deceased father, and was granted the return of the money. (May 18, 1869) Laura L. and Catherine A. Barber Filed a suit on Dec,. 14, 1878 to have D. Frank Brown removed as their guardian and the court appointed Their uncle John E. Meek the guardian. Mrs. Charles Downs has removed to New York City. alcohol
She was baptized 1835 in Stark Co., OH. She resided SE Corner of NW St. and Curtis S, in Stryker, Williams Co., OH 11 APR 1867. Jane was divorced from David Franklin BROWN 26 NOV 1883 in Williams Co., OH. Stryker, OH. Newspaper Mar. 1917 Jane E. Brown, whose maiden name was Richard, was born in Stark Co., OH., in 1835. At the age of 18 she was married to Bradford Barber and to them were five children were born. Two daughters (Mary A. Lloyd and Laura L. Brown) and one son (Isaac J. Barber) preceded her to the better land, and one son, John C. Barber of Defiance, and a daughter, Catherine A. Elliott of Toledo, are now living. Her husband enlisted as a volunteer in the civil war, was taken prisoner and died in Andersonville prison. In 1867 she married D. Frank Brown and to this union one child was born, Mrs Mertie Ogle, who resided with her mother at the time of her death, and who had devoted herself faithfully to the happiness and comfort of her aged mother for several years prior to her death. Her disposition was optimistic and cheerful. Hers had been a long journey through life, with many vicissitudes and also many pleasures, but through sunshine and shodow alike, she kept a complete mastery of self, and in sofar as lay in her power was a help to all. Her children, grandchildren, neighbors and friends keenly feel their loss, but all find comfort in the fact that every step under human control, with divine aid from life's sunrise to sunset, has been a preparation for the life beyond. She died Sunday, Feb. 25, and funeral services were held Feb. 28; interment was made in the Catholic cemetery at Archbold. Card of Thanks. We wish to express our sincere thanks to friends and neighbors for their assistance and sympathy in our recent bereavement and deep sorrow. Mertie Ogle and Family.
According to Josephine DeHaus Barber, "Jane was a petite woman with dark complexion, dark eyes, and dark hair. She was a very meticulous house keeper."
According to Ada (Flory) Dominic "Aunt Jane was a outstanding midwife, who covered delieveries throughtout the Stryker and Archbold, OH. area, she delievered my father George Flory after riding her horse about 10 miles through a very severe thunderstorm, after being summoned by my older uncle Frank Flory, who also rode with her on horse back through the storm which also had caused high water in many locations on their journey."
Jane had Dk Brn hair; had Dk Brn eyes.
On her death certificate it listed mild senility for a few years prior to death, but I believe it may be from hardened arteries. actual cause of death was pnomonia caused by the influenza.
Jane E. "Jennie" RICHARD and Bradford Alfred "John" BARBER had the following children:

+ 40 i. Mary Adeline "Addie"2 BARBER was born 2 AUG 1853.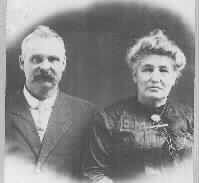 John C. & B. Adaline (Miller) Barber

+ 41 ii. John Charles BARBER was born 9 NOV 1855.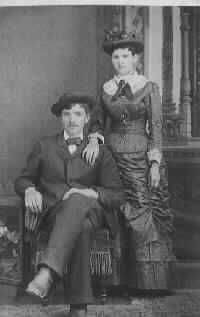 Isaac & Sarah (Burlingham) Barber
Picture take in Bryan, OH soon after their wedding

+ 42 iii. Isaac James BARBER was born 1 JAN 1858.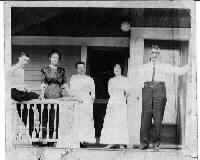 Laura Barber Brown left of door, taken at Frank and Laura's home.
L to R Charles, Josephine Barber, Laura Brown, Julia Eble Brown, and Frank Brown taken about 15 Jun 1913

+ 43 iv. Laura L. BARBER was born 27 APR 1860.

44 v. Catherine Ann BARBER (#35) was born in Stryker, Williams Co., OH 20 JUN 1862. Catherine died 22 OCT 1922 in Toledo, Lucas Co., OH, at age 60. Her body was interred OCT 1922 in Woodlawn Cem., Toledo, OH. She married William E. ELLIOTT 28 MAY 1882 in Williams Co., OH. (William E. ELLIOTT is #240.) William was born SEP 1860 in Palmyra, MI. William was the son of William Sr. ELLIOTT and Mary SWIFT. William died 19 SEP 1923 in Toledo, Lucas Co., OH, at age 63. His body was interred SEP 1923 in Woodlawn Cem., Toledo, OH. William was employed for N.Y.C. railroad as a conductor. Cause of death was listed as general carcinomatosis
She was baptized 1862. I need to futher research the life of Catherine Ann (BARBER) ELLIOTT
Cacinoma of liver
Jane E. "Jennie" RICHARD and David Franklin BROWN had the following child: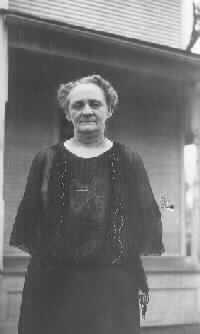 Myrtle E. Brown Ogle

+ 45 vi. Myrtle Eloise BROWN was born 17 MAY 1868.

Return to Table of Contents or Index

Go to Next Page

Go to Previous Page