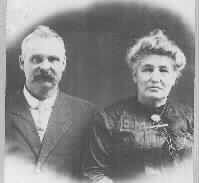 John C. & B. Adaline (Miller) Barber
41. John Charles2 BARBER (Jane E. "Jennie"1 RICHARD, JosephA, XavierB)(13) (#5) was born in Springfield Twp., Williams Co., OH. 9 NOV 1855.(14) John died 30 APR 1925 in Hicksville, Defiance Co., OH, at age 69.(15) His body was interred 2 MAY 1925 in Riverside Cem., Defiance Co., OH.
He married Barbara Adeline MILLER 30 NOV 1877 in Defiance Co., OH.. (Barbara Adeline MILLER is #6.) Barbara was born 8 FEB 1859 in Defiance, Defiance Co., OH. Barbara was the daughter of John J. MILLER and Sarah Agatha NULL. Barbara died 14 APR 1925 in Defiance, Defiance Co., OH, at age 66. Mytial, Regurgitiation
Her body was interred 17 APR 1925 in Riverside Cem., Defiance Co., OH. Cresent News April 15, 1925. "WOMAN DIES AT LODGE MEETING" Mrs. Adeline Barber 66, Falls During Rehearsal of Drill Team. Falling to the floor just after she had taken her place in a degree team drilling in Red Men's hall last evening, Mrs Barbara Adeline Barber wife of John C. Barber died within a few minutes of heart faliure. She was 66 years old. Mrs Barber walked from her home at 833 Harrison ave. near Davidson to the lodge hall in Clinton Street, and had climbed the two flights of steps. She had hurried because of being delayed by the illness of her husband, she told others in the room in explaining why she was late. The drill practice had already begun, under direction of L. B. Fretz and Mrs. Barber sat in a chair a few minutes to rest. As the marchers came past her chair, she stepped into the place left vaccant for her but had gone only a few steps to the turn at the end of the hall when she collapsed. Herbert Bable ran for a doctor while others present sought to revive her with cold water. When Dr. G. E. Winn arrived, he pronounced Mrs. Barber, dead. Mrs A. L. Hurtt notified Charles Barber, the victim's son, who with Patrolman Charles Miller, her brother, took charge of the body. The death occured about 9 o'clock. Mrs. Barber had always been active in the degree of Pocahontas of the White Swan council of Red Men here. She was one of the group who officiated at the first observance of Decoration Day in Defiance, and her self frequently related that she placed the first flower on the first grave of a Civil War Soldier to be decorated in Defiance as a part of an official Memorial Day celebration. The funeral will be at 10 am Friday and burial will be made in Riverside cemetary, The service will be conducted in the Grace Episcopal church of which of which denonimation Mrs. Barber was a life-long member and for years a choir-mother. Beside the White Swan Council Mrs Barber held a membership in the relief and Benefit Society of Defiance. She was born in Defiance where she grew to woman-hood and was married on Nov. 30, 1877. Mr And Mrs. Barber continued to make their home in Defiance throughout the greater portions of their lives. Mr. Barber who survives his wife, was a contractor. He is now a body builder at the Defiance Carriage Co. Charles Barber of 846 Kintner St. and Mrs. Charles Gingrich of Hicksville, are son and daughter respectively of Mrs Barber. John Ira Miller of Sunnyside, Wash. and Charles L. Miller of Wabash Ave. are brothers. Paul Gingrich of Ft. Wayne IN., Charles P. and Clarence D. Rice of Lima, and Catherine and Thomas A. Barber are grandchildren. Death certificate list cause of death as Acute Cardiac Dilitation with a contributory of Mytial Regurgitiation. note 10 yrs duration
He was baptized 1855. By Wm. J. Barber, John C. Barber was a general contractor and built several large buildings and homes in Northwest Ohio. One building mentioned by my grandfather Charles D. Barber was the the Defiance County Home on Evansport Road. Charles also said his father also built some buildings for the Defiance College, and also a few churches in NW. Ohio. According to Clarence D. Rice, he said that "his grandfather John Barber worked for the Diehl Co. during his later years constructing bar chairs, stools, this was due to his grand mall problem. Just prior to his death he worked as a carriage builder in Defiance." It would appear that John C. Barber met his wife thru John M. Richard and John Miller as John Richard was a brother-in-law to John Miller, and John Richard was John C. Barber's Uncle. Also to mention John Richard and John Miller were also carpenters and in early Defiance years they were employed together. According to Kay Barber her "grandfather was some what quiet, he smoked a pipe and blew very good smoke rings. She also said that one building at Defiance College her grandfather built was the Trowbridge Hall a girls dorm.."
Grand Mall, may have been a result of head injury due to a fall off a church roof, a few years earlier.? note: he had it for 5 years per death cert. I do remember grandpa Barber talking about his father who fell off scaffolding at a church construction site.
John Charles BARBER and Barbara Adeline MILLER had the following children: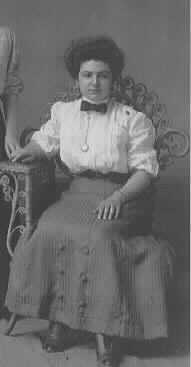 Emma Barber Rice

+ 168 i. Emma Leone3 BARBER was born 1 DEC 1878.

Flora Anna Barber

+ 169 ii. Flora Anna BARBER was born 24 MAR 1880.

170 iii. Minnie E. BARBER (#42) was born in Defiance, Defiance Co., OH 11 MAY 1882. Minnie died 3 JAN 1897 in Defiance, Defiance Co., OH, at age 14.(16) Her body was interred 7 JAN 1897 in O.RiversideCem, Defiance, OH.
death may have been caused by asthma ? death records indicate consumption of the lung, further research needed.
consumption-which could be a form of TB or it could be asthma or any lung infection.

171 iv. William BARBER (#31) was born in Defiance, Defiance Co., OH MAR 1884. William died 5 OCT 1884 in Defiance, Defiance Co., OH, at age unknown. His body was interred OCT 1884 in O.RiversideCem, Defiance, OH. William died at age 7 months.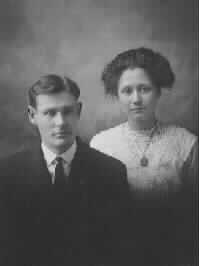 Charles & Josephine (DeHaus) Barber, Wedding picture
11 Jun 1913

+ 172 v. Charles Delbert "Red" BARBER was born 3 OCT 1885.

Return to Table of Contents or Index

Go to Next Page

Go to Previous Page