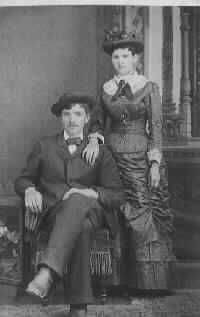 Isaac & Sarah (Burlingham) Barber
Picture take in Bryan, OH soon after their wedding
42. Isaac James2 BARBER (Jane E. "Jennie"1 RICHARD, JosephA, XavierB)(17) (#33) was born in Springfield Twp., Williams Co., OH. 1 JAN 1858. Isaac James Barber died 2 JAN 1908 in Stuben, Huron Co., OH., at age 50. His body was interred JAN 1908 in Stuben, Huron Co., OH..(18)
He married Sarah Rosetta BURLINGHAM 10 OCT 1877 in Huron Co., OH. (Sarah Rosetta BURLINGHAM is #66.) Sarah was born 24 SEP 1857 in Huron Co., OH. Sarah was the daughter of James BURLINGHAM and Ellen LINDSEY. Sarah died 17 FEB 1922 in Shelby, Richland Co., OH, at age 64. Her body was interred FEB 1922 in Stuben, Huron Co., OH.. News Paper at Shelby, OH. Sat. Feb. 11, 1922 MRS. SARAH BARBER Died this morning at 7 O'clock at the home of her daughter Mrs. Jarius Cline, 22 Steele Avenue. Mrs. Barber's illness extended over a period of six weeks. Mrs Barber was aged 64 years, 4 months, and 17 days. She is survived by one daughter Mrs. Jarius (Jen) Cline and granddaughter Mrs Albert Sprague of Napoleon, Ohio. A short prayer will be held at the home of her daughter. Mrs. Cline, Monday 1 O'clock. The body will then be taken overland in the Barkdull funeral car to Stuben where the services will be held at 2 O'clock at the Stuben Church. Rev. Oram will have charge of the service.
death certificate listed contributory as Heart Disease, and cause was Lobar Pneumonia. She had been receiving treatment for heart disease fron April 1, 1919 until Feb. 11, 1922
He was baptized 29 APR 1858 in Maumee, OH.. Baptised in St. Joseph's Catholic Church, record provided by the National Archives, files of pension application of his fathers death during the civil war. Sponsers were Valentine Cary and Louisa Martin. Isaac and Sarah named their children using the first and second names of their parents, example James Bradford Barber, James from Sarah's father, Bradford from Isaac'c father, Oliver Albert from Ike's & Sarah parents middle name's and Jen's from Sarah's mother and Ike's mother. Ike' use of Albert for Oliver' middle name needs to be researched as Ike's baptismal record at Maumee Catholic Church indicates Alfred as Bradford's middle name possible translation error from latin, ?? Isacc & Sarah purchased land from the Carpenter families in Huron Co., this Carpenter family is related to the Carpenter families of Williams Co., Springfield Twp. which of whom many are buried near Mercy Ann Barber, Isaac Grandmother. This same family line traces to Saratoga Co., NY, where Ike's father Bradford was born? I wonder what the family connection was or is? Isaac was a farmer.
Isaac James BARBER and Sarah Rosetta BURLINGHAM had the following children:

+ 173 i. James Bradford3 BARBER was born 8 DEC 1878.

174 ii. Oliver Albert BARBER reference 19-10-7 (#68) was born in Huron Co., OH 4 JUN 1881. Oliver died 11 APR 1901 in Shelby, Richland Co., OH, at age 19. His body was interred APR 1901 in Stuben, Huron Co., OH. From the Willard Newspaper; Oliver Albert Barber second son of Isaac & Sarah Barber Died in the Shelby Hospital age was 19 years 10 months and 7 days. The funeral was held at the home of Mr. & Mrs. Gambles where he had been visiting. Cause of death was listed on death certificate as diabetic. Futher research is needed on why was he at Gambles & their relationship to Oliver?
cause of death was listed as severe diabetic

+ 175 iii. Ellen Jane "Jen" BARBER was born 3 APR 1884.

Return to Table of Contents or Index

Go to Next Page

Go to Previous Page