164. Jessie Isabel3 LLOYD (Mary Adeline "Addie"2 BARBER, Jane E. "Jennie"1 RICHARD, JosephA, XavierB) (#62) was born in Stryker, Williams Co., OH 3 MAY 1872.(36) Jessie died 9 NOV 1945 in Detroit, Wayne Co., MI, at age 73.(37) Her body was interred 12 NOV 1945 in Shiffler Cem., Pulaski, OH.
She married John William SWANK 15 SEP 1892 in Williams Co., OH. (John William SWANK is #248.) John was born 5 AUG 1865 in Evansport, Defiance Co., OH.(38) John was the son of David SWANK. John died 26 MAR 1950 in Toledo, Lucas Co., OH, at age 84.(39) His body was interred 29 MAR 1950 in Shiffler Cem., Pulaski, OH. John was a teamster and a farmer. Cause of death was listed as senility
She was baptized 1872. Jessie Lloyd Swank resided at 228 w. Grand Blvd., Detroit, MI. She along with her sister Blanch lived with their grandmother Jane (Richard) Barber Brown when their mother Addie died. They also live with their uncle John C. Barber and his family in Defiance, OH. for a short time.
Cause of death was listed as Peritonites
Jessie Isabel LLOYD and John William SWANK had the following child: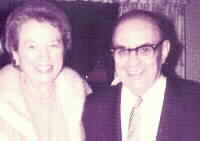 Tony & Muriel Swank

+ 348 i. Moardecai Maynard "Tony"4 SWANK was born 27 OCT 1898.

Return to Table of Contents or Index

Go to Next Page

Go to Previous Page