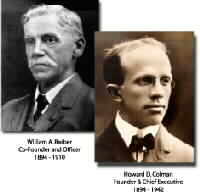 William A. Barber with friend and partner Howard Colman, founders of the Barber Colman Company
498. William Alonzo9 BARBER (Bradford Kenyon8, Benjamin B.7, Thomas6, Thomas5, Moses4, James A.3, James2, Thomas1) (#5489) was born in Galway,, Saratoga Co.,, NY JAN 1843. William died 16 FEB 1913 in Monroe Co., WI, at age 70.
He married Mary V. LAWTON 9 APR 1867 in Marquette Co., WI. 1:66 534 (Mary V. LAWTON is #6807.)
Mary was born 5 NOV 1845 in Chenango Co., NY. Mary was the daughter of Israel LAWTON and Julia RULAND. Mary died 27 FEB 1882 in Marquette Co., WI, at age 36. Barber William A., Franklin, WI Enlisted 37th Regiment Infantry. It appears he remarried on 1 JAN 1883 to a Etta A. Crapp. Then sometime before the 1900 Census he was again married to a Mary L.? and she was born in 1847 NY, she was listed as mother to 4 children and 2 living in 1900. He went by Alonzo W. Barber in the 1870 census and was employed in a saw mill. Also living next to him was his sister Calista Baker
Howard D. Colman, while attending school at Beaver Dam, Wis., formed the acquaintance and friendship of a schoolmate by the name of Fredrick R. Barber. Barberís father William A. was attracted to Mr. Colman on account of his ingenuity in devising useful inventions.
Aided by a $100 loan from W. A. Barber, a lumberman of Warrens, Wis., who was to become co-founder of Barber-Colman Co., Colman invented a hand knotter for textile mill spooler operators and continued development on the warp tying machine.
By his grt grandson Daniel F. Barber, Moline, IL: William Alonzo arrived with his family in Wisconsin in 1856. As the income from farming and his father's preaching was scarce, it fell upon him to help support the family. He had little formal education, but tutored by his father, Bradford, who was a polished orator and scholar with a library of excellent books, he learned so well and rapidly that, at age 15, he was issued a certificate that allowed him to teach in the public schools. From 1858 until his enlistment in the Union army in 1864, he taught school in various Marquette County schools, boarding in the households of various farmers and assisting them in farming chores. During the time when schools were not in session, he helped his father, who combined farming with his Baptist minister duties in a variety of country churches.
He told that his first wage as a farmer's helper was 10 cents per hour. His beginning salary as a teacher was $10 monthly, but after several years of experience, made as much as $30 each month, most of which he took home to his father, who was struggling to support the family on the sandy farm near Westfield, WI.
When he first attempted to enlist in the army, he was rejected because of his slight build, but eventually was accepted in 1863. Younger brother Oscar also joined, despite the family's objection, enlisting as a substitute and earning a bounty of $13 monthly (Civil War draftees were excused from service if they could provide a substitute).
He initially was trained in Madison at Camp Randall, now the site of Camp Randall Stadium, home of the University of Wisconsin Badgers football team. Alonzo (known as "Lon") served in Company B, 37th Wisconsin Volunteer Infantry, participating in the battles of Petersburg and in the sieges of Richmond, including marches from Cold Harbor on toward Appomattox when Lee surrendered to Grant. There is a well written diary that chronicles the 37th Infantry's Civil War campaign, "The Sword and the Gun," by Major R. C. Eden, WAB's company commander, currently in the possession of Daniel F. Barber, along with copies of very interesting letters that WAB wrote to family members about his experiences on
the front line, his and other soldier's reactions to learning of Lincoln's assassination, and so forth. He endured a long period of convalescence in a Washington, DC area army hospital from a bout with typhoid fever. As a result, he was given light duty, and because he was a teetotaler, was put in charge of dispensing liquor supplies. He also was given additional supply and procurement responsibility, so was able to visit many interesting places around the Washington area.
Upon discharge in 1865, he returned to the family farm, and in addition to assisting his father there, secured a job as an agent for the Davis Sewing Machine Company, canvassing the central part of the state. While successful in this role, he chose to stay on the farm and pursue interests that led to involvement later on in lumbering. In 1867, his father left the farm for a pastorate in the St. Croix area of Wisconsin, and that was the year he married Mary Lawton, daughter of a neighboring farmer. Their honeymoon "trip" consisted of a ride behind a team of oxen from the bride's home to their new house on the Barber homestead. Three children were born Frederick Ruland (7/1/1869 - 4/10/38), Emma Mae (2/1872 -9/1873), and Edith May (4/20/1875 - 1961). Sadly, an infant daughter died in 1867, and Frederick Ruland's twin brother died at birth in 1869. Both infants, along with Emma Mae, are buried in a Barber plot in South Cemetery, Westfield., WI
In 1874, he gave up the family farm and moved to Warrens Mills (later renamed Warrens, WI and today host to an annual Cranberry Festival), where his uncle, George Warren, and his brother-in-law, James Gamble, had in 1868 established a sawmill. The enterprise was growing rapidly, and Alonzo was made foreman in one of the mills, soon thereafter assuming management of the mill in Zeda (11 miles northeast of Warrens Mills). Warren and Gamble at some point returned to their respective farms in Dodge County near Fox Lake, so they sold their interests to Alonzo and Frank Warren, who set up a partnership, later incorporating the business under the name Geo. Warren Company. They also incorporated a real estate business under the name of the Warren Land Company to engage in purchasing and selling farmland. Frank Warren concentrated on that business, and Alonzo gave his attention to the lumbering activities.
The supply of lumber was fast becoming exhausted, and other competing companies had departed. W.A. Barber was faced with the choice of pulling up stakes and relocating, or remaining in the area and engaging in another type of business. He felt a strong sense of obligation to the settlement and to his employees, many who had come to Warrens Mills to work for him and had settled there, and for whom it would prove a major hardship if they had to abandon their homes and move elsewhere. WAB decided to stay and transformed the Geo. Warren Company into an enterprise that included a machine shop, planing mill, grist and flour mill, a bank, and a telephone system that served not only the village, but the surrounding countryside as well. This telephone system cause the family to be involved in litigation with the Bell Telephone Company for infringing on their (Bell's) rights. He remained the head of these businesses until his death in 1913.
In 1891, WAB began providing financial assistance to Howard Colman, a very bright and creative Wayland Academy (Beaver Dam, WI) classmate and friend of his son, Frederic Ruland. Colman lived next door to the superintendent of a cotton mill in Beaver Dam, and this contact with the textile industry would lead to a highly successful career, eventually resulting in the formation of the Barber-Colman Company of Rockford, IL. Their association led to many innovations, most of which had application for the textile industry. WAB eventually sold his interest in the firm back to Howard Colman, who remained head of the company and later developed such ingenious items as a gear-cutting machine used in automobile manufacturing, a radio-controlled garage door, thermostats and related heat control devices, and so forth. (A complete biography of Colman is included in the family records.)
W.A. Barber devoted considerable time and energy to numerous civic, religious, and political activities. For many years he served on the Board of Wayland Academy, and on a great many committees of the Wisconsin State Baptist Association. From 1876 until his death, he served as Postmaster for the village of Warrens. He established many Sunday schools among the rural areas of the community, and was principally responsible for the establishment of the First Baptist Church in Warrens, and for the erection of the original building (and later its remodeling). He served a term as a Wisconsin State Assemblyman.
Early in his career he became interested in furthering educational opportunities for Negroes, and on a number of occasions, donated money to various secondary schools and colleges. He also was deeply interested in Baptist domestic and foreign missionary activities and generous in his support of those causes.
Articles Received from Monroe County Local History Room, Sparta, WI, in April 2008
OBITUARY of W. A. Barber Jan 11, 1843 - Feb 16, 1913 W.A. Barber of Warrens, Wis, one of the best known citizens of Monroe county, prominent for many years in business, political, and religious life,.. Mr. Barber was the oldest of three children of Rev. Bradford K. and Rowena A. Barber, and was born Jan 11, 1843, in Galway, Saratoga County, N.Y. His sister, Calista, the late Mrs. James Gamble of Fox Lake, Wis,, was born March 22, 1845, and his brother Oscar was born April 20, 1848. In 1858, at 15years of age, W. A. Barber began teaching a country school and worked for a farmer before and after school hours at ten cents an hour, which was considered extra good wages for a 15-year-old boy. His father, on his first arrival in Wisconsin in 1856, made some progress in establishing a home on a farm near Westfield, Wisconsin, Marquette county, and in 1861 the family returned to this farm and young Barber combined farming and school teaching.... ...enlisted in March, 1864, and served until the close of the war in Company B of the Thirty-seventh regiment of Wisconsin infantry, participating in the battles about Petersburg and the siege of Richmond, including marches from Cold Harbor and on toward Appomatax when Lee surrended. After his discharge he returned to the farm home near Westfield, Wisc. There in 1867 he married Miss Mary Lawton of his own home town, who has shared... Two children have blessed their home, a son and a daughter, Fred B. and Edith M. In 1882 Mr. Barber was a member of the Wisconsin Assembly and had a part in the defeat of the death punishment. ...Mr. Barber's larger business interests began in 1875 in a partnership with his uncle, Geo. Warren, and his cousin, Frank G. Warren, resulting in the incorporation of the Geo. Warren Co, which devoted itself to lumbering so long as the timber in Monroe and Jackson counties lasted, since which banking and other interests followed...
Tomah Journal, Feb 21, 1913
William Alonzo BARBER and Mary V. LAWTON had the following children:

631 i. Infant Dau10 BARBER (#6808) was born in Marquette Co., WI. Infant died 10 DEC 1867 in Marquette Co., WI, at age unknown. Her body was interred date unknown in Marquette Co., WI. Westfield South Cem. Infant child is buried in the Cemetary with another sibling and along with Grt Grandmother Mary (Crandall) Barber, and its given name is unknown.

632 ii. Infant twin son BARBER (#6809) was born in Marquette Co., WI 1 JUL 1869. Infant died 1 JUL 1869 in Marquette Co., WI, at age unknown. His body was interred date unknown in Marquette Co., WI. Westfield South Cem. Infant child is buried in the Cemetary with another sibling and along with Grt Grandmother Mary (Crandall) Barber, and its given name is unknown...

+ 633 iii. Frederick Ruland BARBER was born 1 JUL 1869.

634 iv. Emma May BARBER (#6810) was born in Marquette Co., WI 28 FEB 1872. Emma died 14 SEP 1873 in Marquette Co., WI, at age 1. Her body was interred date unknown in Marquette Co., WI. Westfield South Cem. Emma May is buried in the Cemetary with two other siblings and along with Grt Grandmother Mary (Crandall) Barber.

635 v. Edith M. BARBER (#7010) was born in Monroe Co., IL APR 1875. Edith died 23 NOV 1961 in Monroe Co., IL, at age 86. She was a Teacher, A story by Virginia Krohn: "she was never married, my mother told me her father said no man was good enough for her....I liked her, my cousins and I used to spend alot of time at her house looking at stereo-views and listening to her stories and going up in the attic an trying on all her victorian clothes etc......what fun! I have photos of all these people by the way. She made the best pickled beets ever and my cousins and I would sit at her kitchen table and eat tons of them until we were sick." aka Aunt Dede

Return to Table of Contents or Index

Go to Next Page

Go to Previous Page