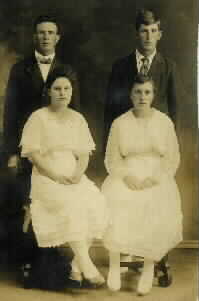 Couple on right, Alex & Myrtle (Cleaves) Teman, and is their wedding picture. Couple on the left is Vera Cleaves and her Husband to be Henry Winchester.
66. Myrtle Grace9 CLEAVES (Herbert8, John E.7, Israel6, Eaton Jr.5, Eaton Sr.4, Robert3, John2, William1) (#1314) was born in Brown Twp.,, Paulding Co.,, OH 19 APR 1901. Myrtle died 12 FEB 1985 in Lima, Allen Co., OH, at age 83. Her body was interred 15 FEB 1985 in Walnut Grove Cem, Delphos, OH..
She married Alex TEMAN 29 JUN 1918 in Delphos, OH.. (Alex TEMAN is #1317.) Alex was born 31 JAN 1898. Alex was the son of Henry Bernard TEMAN and Laura BAIRD.
Myrtle Grace CLEAVES and Alex TEMAN had the following children:

94 i. Pauline10 TEMAN (#6772) (still alive).

95 ii. Doyle TEMAN (#6773) was born 1922. Doyle died 1923 at age 1.

+ 96 iii. Harold Elmer "Bud" TEMAN was born 13 SEP 1923.

97 iv. Mildred "Millie" TEMAN (#6775) (still alive).

Return to Table of Contents or Index

Go to Next Page

Go to Previous Page